Founded in 1999, SAG Infotech is an eminent company, known for its Avante Garde in latest developments of taxation software which are in compliance with government norms. With more than 20000 clients across India, the company has broken new grounds in the field within a short span of time.
With the mission and vision of "One Nation One Tax" GST superseded the various indirect taxes. Since it is a new system, people are/were not full-fledged ready and the scenario when many new alterations in rules and policies emerging regularly, the GST regime has baffled the business community.
Especially the small businesses are facing lots of hassles because firstly they are unable to discern and carry out the GST into their prevailing accounting techniques and secondly they are not on board to bear the costs of accountants, professional and high tech computers.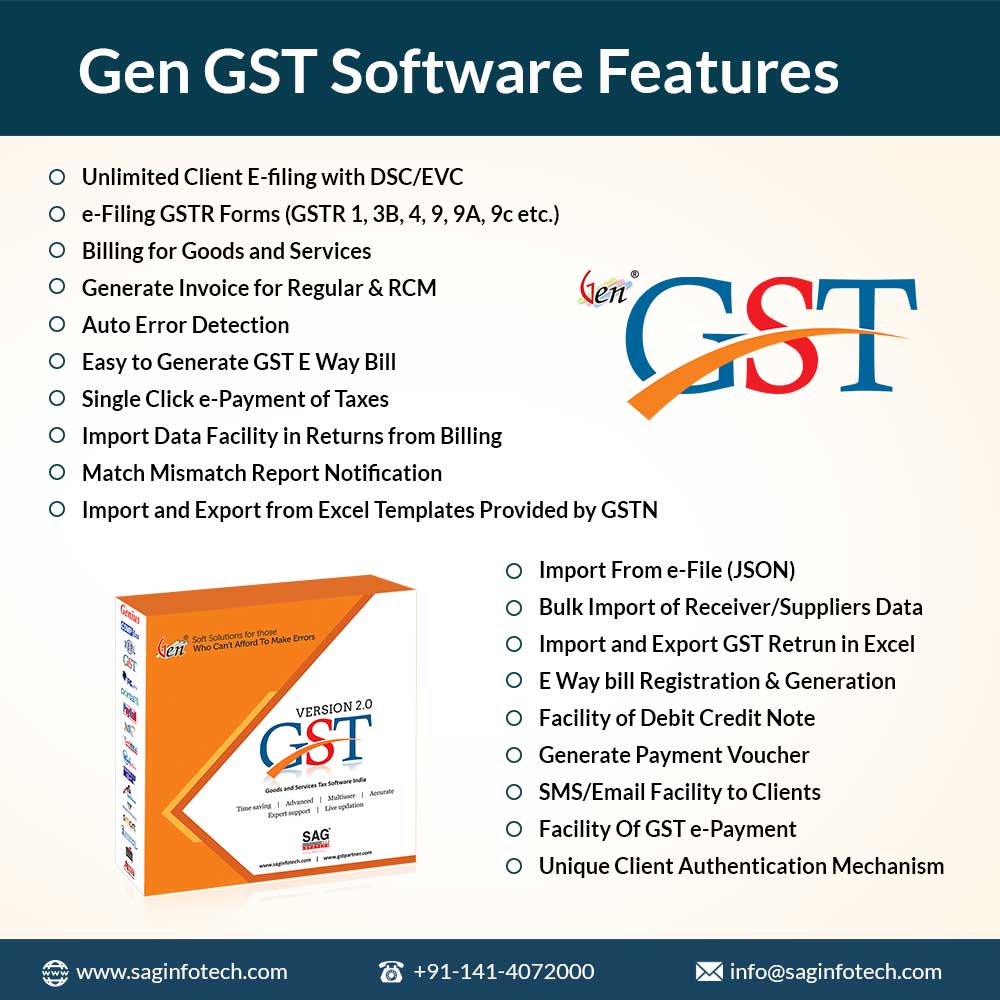 The solution here is choosing a good GST software which can automate your work and let you focus on the core activities of the business. These days many software are available in the Indian Market but some of them are hard to operate, some are costly and some are cheap but then they have the least focus on efficiency.
In this case, we understand that you need an easy, accurate and affordable solution and so we have invented and upgraded GST related software such as GST billing and Gen GST Software Version 2.0.
Gen GST return filing and billing software is one of the most economical and dynamic GST software.The price is as low as Rs. 5,000 for the desktop version and if you use it for once, you will envision it as the ideal GST software of the year. So, we are providing a free demo version of the application. With the free demo version of the software, you can use the software as long as you get well familiar with it. Gen GST free software is available in an online version/ platform-independent cloud which is absolutely free of cost for one GSTN. Moreover, this is the lowest cost of advanced software among other GST software present in the market today.
What is Gen GST Software?
Gen GST is the most secure accounting software founded by SAG Infotech Pvt Ltd to ease and quicken the taxation related processes like filing returns, generating invoices, claiming ITC etc and that too in compliance with the latest norms of government. Undoubtedly, Gen GST is a very cost-effective solution for small businesses who are seeking low cost and effortless ways for filing GST returns online and generating GST compliant bills and invoices.
The software is equally important for chartered accountants also as its an all-inclusive application that allows filing regular tax returns for multiple clients and infinite GSTIN.
The GST software is available in two variants, desktop and cloud variants. The desktop variant of the software can be downloaded and used on a compatible PC or laptop. The online version of Gen GST is platform-autonomous and can be viewed and used from any place at any time. Adding stars to the advantages of the mobile app of Gen GST is also available that is seizable by paying a little extra amount. The data and backups in all the variants are completely safe and secure and the software comes with an integrated option to enable you to upload data directly to the GST portal.
You can gather experience on how this software works and what advantages it has through the Gen GST software free trial version which has all the core features and utilities to assure you that - Yes you are going for right stuff! Let us have a general idea about its significant features:
Cost-effective Solution
Beyond the shadow of a doubt, the Gen GST software is the most cost-effective taxation solution available today in the Indian Market. Rs. 5000 + tax for the desktop version becomes negligible when it comes to its utilities. The icing on the cake is, it comes with discounts and offers that no one can resist. Moreover, the cloud version is available for free to use for one GSTIN, what else is needed to grab?
Endless Clients and E-filing
It is a comprehensive application that facilitates return filing and GSTIN registration without any restrictions to a number of clients. You can do so for as many clients as you want. A must-have app for C.A.s.
Simple and Effortless GSTR Return Filing Forms
The Gen GST software V 2.0 simplifies and ease the filing of GST return forms. Multiple return forms like GSTR-1, GSTR-3B, ITC-04, GSTR-7, GSTR-8, GSTR-9, GSTR-9A, and GSTR-9C are available on this software. No chance that taxpayers may say NO to it!
No charge GST Software (SaaS)
This feature is simply amazing, Gen GST software is available as a free cloud variant that enables you to use this software for free for any duration you wish to. The free application is present only in the cloud version which is accessible on registration on the official website of Gen GST. A good deal for free!
For a Freebie: https://saggst.com
Username: sagtest | Password: sagtest
Import-export data and Upload on GSTN
The most prominent feature of Gen GST software Version 2.0 is that it allows the direct and seamless import of data from multiple applications like Excel and vice-versa. The software also has integration with all the important accounting software that simplifies data transfer. It also facilitates the upload of data straight to the user accounts on the GSTN server.
Single click e-payment of taxes
Gen GST facilitates the payment of taxes online, eliminating the need to harbour in the GSTN portal. The software is linked with all popular payment avenues and banks and uses confidential as well as reliable payment systems. Moreover, the Gen GST software updates your electronic ledger directly from there after paying your taxes.
High security
Gen GST software is designed on an eminently secure Java-based platform that is well-known for its stringent security and aegis measures such as encryption of data, user-specific passwords, secure payments, secure backups on the cloud and much more.